Zambia
Hello Family
Here is the latest report from our Mission Partner John & Ruth Kerr
KERRENT EVENTS 98 TRANS-AFRICA CHRISTIAN UNIVERSITY, KITWE, ZAMBIA
JOHN & RUTH KERR
"Twelve Pressing Zambia Needs for Your Christmas List!"
November 21, 2017
Dear Friends:
We appreciate so much the opportunity to share with you a tiny window on Zambia's great needs this Christmas. Maybe you will have opportunity to put Zambia on your shopping list!
Our campus is surrounded by some of the world's poorest, flocking to the cities for a better life, throwing up shanty compounds like our neighbourhood Kamatipa, all around the fringe. We see it as God placing some of the objects of his special concern at our doorstep.
(1) You can invest in Brian's Place, our very busy Youth Centre, and it's Soccer & Discipleship Ministry! Just beyond the campus gates, the centre stands in loving memory of our good friend, Calgary's Brian Wilcox. It calls for about $750-per month to keep this vital ministry going. Lots of youth coming to Christ!
(2) Our graduates Martin and Mary Zulu are expanding their vibrant ministry right in the heart of Kamatipa. "Living Water Assembly!" They need $750 to bring the walls "safely" up to roof level. Then another $750 for their home-assembled roof trusses and the roofing sheets. This is a bit urgent, with the advent of the rains!
(3) Our groundskeeper Malama saw his house collapse in last year's rains! We are helping him rebuild, and another $750 should have him and his family of four under cover and back "home" to start the new year!
(4) We've got 3 blue-chip future faculty members furthering their studies. Cost for the qualifying 5-course Honours program at SATS (South African Theological Seminary): $300-per-course. These courses are taken by distance-education while these guys pastor churches!
(5) Our College mini-bus needs a rest. Great V-6 engine, but shocks and struts are pot-hole tired. We're encouraging friends in Zambia and beyond to help us reach our target of $8,000 dollars for an almost-new Toyota Hiace for the new year. Presently, the fund stands at about $2,000 — $6,000 more to keep us on the road!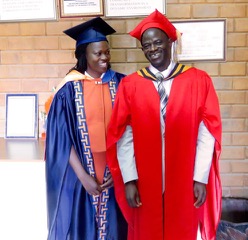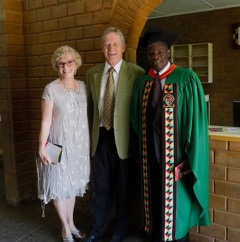 (6) We plan to open a new tailoring school for teen-age girls in Brian's Place. We have the director, and no shortage of teen-age girls! Pressing need is 10 sewing machines at about $100-per-unit.
(7) Growing pains! We are converting our former chapel into 10 new hostel units for our Education stream! Total cost: $10,000 dollars. You can purchase a unit for $1,000 … or furnish a unit for $400!
(8) Our J. Harry Faught Memorial Library needs a new drop ceiling and some A/C units. Latest quote on this job: $3,400.
(9) Our outstanding graduate, Jones (and Florence) Chiyana has been faithfully growing a church in our capital, Lusaka, for 7 years! He is half-way toward a much-needed piece of property for their new structure. This is an outstanding, very solid ministry in the heart of Lusaka. Amount remaining for the purchase: $1,740 dollars.
(10) Some of our students have had to drop out for lack of support. We keep our fees low, and help through work-sponsorships and scholarships. Why not help a student with basic fees for $500-per-year? We can send you their pic!
(11) Child Sponsorship is always a great way to help a married student or church-planter. We can place your $30-per-month, or $360-per-year, in one of our very grateful young student families.
(12) Two of our finest, Joshua and Mutende Daka, have built a very vibrant church in the heart of Chimwemwe from scratch over 7 years! Now they have an opportunity to buy a strategic church plot for $2,000! Even in Chimwemwe, this is real estate bargain!
Sincere thanks for your prayerful support for this vital ministry, so close to the heart of God. May God pour out abundant blessings upon you and your families at this lovely Christmas season! Be assured of the prayers and love of your Zambian brothers and sisters!
Don't forget our Easter Dedication Week-end for Brian's Place Youth Centre: March 30-April2, 2018. The week-end includes a gala, very up-tempo banquet at Kitwe's Edinburgh Hotel and a five-star visit to Victoria Falls and Chobe Game Park!
Please designate your giving (and let us know) to John & Ruth Kerr Christmas Needs List through the following for tax receipts:
www.paoc.org
The Pentecostal Assemblies of Canada is a Fellowship of more than 1,100 churches across English- and French-speaking Canada. We're here to help facilitate the vital work of spreading the good news of the gospel of our Lord Jesus Christ and bringing hope and help to those in need in Canada and around the world.
Rich blessings and Lesa Mepale Mukwai!
John & Ruth